Click Fraud Prevention Finder
Click Fraud Prevention 1.0 Freeware is the Ideal Finder Tool, you can find Simple and Fast Click Fraud Prevention Companies and you can check if a Website is a Scam or Bad Company. We did Make this Software Special For Beginner and Advance Users Who want to StartUp a Business or Website.
Requirements are:

- Windows System 32/64 Bit (98/xp/vista/7/8/8.1/10)
- Internet.
Note: No Need to Install, Run the Executable File and you are Ready to Go.
Scam Company Checker
How does the Scam Company Checker Work
In the Search Box you can Type for example a [Website Name] or [Company Name] or [Any kind of Keywords] after that you only need to Choose one of the Search Buttons and the Search Results will automatic be done. For the Best Research Results we recommend that you use all the Search Buttons no need to type again in search bar.
We have a Wide-Range of Search Buttons:
Trustpilot Search
Scamadviser Search
Sitejabber Search
SimpleWhois Search
Google Search (us-100 Results)
Bing Search
Yandex Search
Social Media Search (Mix)
Facebook Search (us-100 Results)
Twitter Search (us-100 Results)
Reddit Search (us-100 Results)
Linkedin Search (us-100 Results)
Forums Search (us-100 Results)
and many more.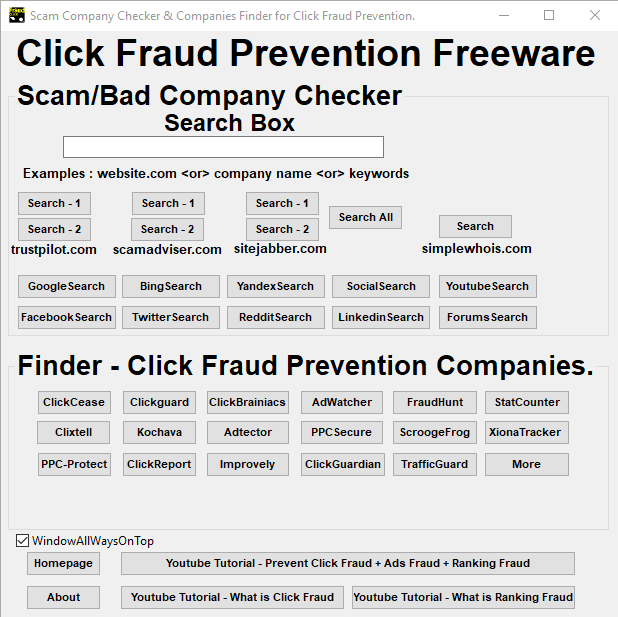 How to Find Click Fraud Companies
To Find the Right Click Fraud Company you only need to have to Click one of the Company Buttons, it will go direct to these HomePages.
We have a Wide-Range of Companies Buttons:
ClickCease
ClixTell
PPC-Protect
ClickQuard
Kochava
ClickReport
Click-Braniacs
AdTector
Improvely
Adwatcher
PPCSecure
ClickGuardian
FraudHunt
ScroogeFrog
StatCounter
XionaTracker
And Many More.